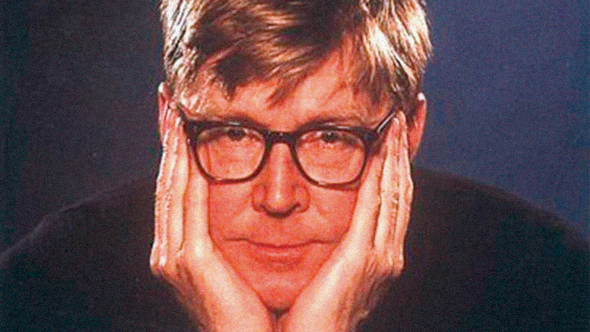 I was lucky enough to be asked to chair an In Conversation with the playwright, diarist and screenwriter Alan Bennett at the British Film Institute last night. It was focussed on his skills with the monologue, as part of a season of TV monologues. It was filmed by the BFI but is currently not available online. My quotes are mostly remembered paraphrases, I'm afraid, as I couldn't take notes at the time.
I'd wondered in advance if a modern young audience would be able to watch them. Often 50 minutes long, carefully building up through distinct "acts" — set days, weeks apart, from little hints dropped in the  earlier scenes, they require an attention span that allows you to get drawn into the devasting mix of humour and pathos.
Interestingly Alan Bennett said teachers often sent him their students' monologues,  but that they mostly missed entirely how his worked.
"They tend to be stream of consciousness and confessional; telling you everything. But the monologue is all about what's not there. What they don't tell you."
We mused on whether the monologue had been irredeemably corrupted by reality television — the Big Brother confessional diary room — a symbol of a TV culture in which spilling all is all there is.
The BFI had preceded the conversation with a screening of Bennett's A Woman of No Importance.  It stars Patricia Routledge as a gossipy spinster who thinks she's the centre of the office universe — in denial of how illness is unexpectedly but swiftly taking her towards death. Rather than a morose Eleanor Rigby tale, it was a perfect example of that gap between what is said and what the audience can see.
The gaps between scenes — from doctors' waiting room, to hospital bed, to empty bed, were, said Bennett, an ancient tradition of the monologue. Greek tragedy for example, in which characters are describing an event that's happened. "They're all about action." He felt there was an assumption among some people that his monologues are static and without event.
Inspiration came partly from the aunts of his Yorkshire childhood. He identified individual Talking Heads as being based on specific aunts; notably the one who recounted long rambling stories in the most frustrating way.
Two things were quite striking watching clips at the BFI.
First without the build up the humour alone is apparent.  We showed clips from very near the end of two Talking Heads: Bed Among The Lentils, starring Maggie Smith  and  Waiting for the Telegram with Thora Hird.  As isolated clips both, including Smith's line about God having "no taste at all", got great laughs. But watched through from the start, they're unbearably sad. Hird unable to recognise her own son, as dementia takes hold. And we appreciate Smith's misery as a neglected vicar's wife, who's been seeking an escape from the "dessicated couplings"of  her marriage with the local Asian grocer, and finds her husband finally even boasting about her alcoholism to show off his sainthood. Bennett picked out with great praise, the tiny moments when his different actresses had added their own touches that imbued a line, a word, a realisation with such emotion and power.
Secondly the impact of seeing the clips blown up on to a cinema size screen: This was the opposite of the intimacy of the television in the corner that Bennett wrote for. Rather than seeming overblown, the quality of the acting, the simplicity of the tight and pared down sets and framing, with simple zooms in and out, could easily cope with the bigger scale.
Bennett said originally he'd planned to direct them all too, seeking total control of the whole process. It was an interesting insight into an incredibly disciplined creative mind.
The fact that one of the two male monologues he's written featured a paedophile made for an interesting conversation about issues of how to write about predatory males, since the Savile scandal forced a national re-examination of the 60s and 70s. Bennett was frank about how as a boy he often came across groping vicars and other men who tried it on with adolescents, but felt able to deal with it.  It was a rare moment when I felt there was a real generation gap in attitudes.
We also discussed Bennett's use of monologue elsewhere. Kenneth Halliwell's disturbing to-camera musings near the end of Prick Up Your Ears; Bennett's magnificent screenplay about the life and death of Joe Orton. There was also One Fine Day (1979) in which Dave Allen plays an estate agent going through a mid-life crisis, as a kind of  visual monologue. Without dialogue for long stretches we watch him seek out an escape in the empty Wood Green tower block he's trying to let. It's a remarkable piece of television, commissioned as part of a series of six by an ITV franchise. Bennett revealed that they'd not been released on DVD because ITV was refusing to pay him anything for doing so. It seems it's not just online journals that expect to get and monetise content for free.
Asked why he didn't write more monologues now Bennett said he hadn't felt inspired to write them recently, but ideas for plays were still coming.
Other fun Questions and answers:
Favourite actors he'd like to (have) work(ed) with: Paul Schofield — who pulled out of A Matter of Attribution and Michael  Gambon, who he stil hopes to write for.
Bad actor experience: Kenneth More "who was a star and therefore got his way".
Bennett said he had tended to write a lot of long speeches which actors found difficult to memorise.
Favourite TV Dad's Army, The Big Bang Theory and likes The League of Gentlemen . "I wish they would show it again."
Unfavourite TV: Doesn't watch the Scandi-crime dramas. "They're too bleak. But I watch Midsomer Murders."
Further reading and viewing
More links and clips at the BFI website here